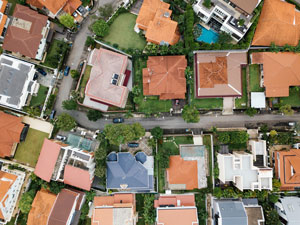 My wife and I moved into our nine-unit complex in 2014. Admittedly, at our previous apartment we hadn't done a great job at 'reaching out' to others and lived quite inward-focused lives.
So, once we moved into this new block, we made more of an effort to reach out to those around us. Over time, we began to learn the names of our neighbours within the building (which I would secretly write down in my phone so I didn't forget).
The family whom we grew closest to were Korean, and lived in unit two. There was something compelling about this family of five: they were extroverted, yet reserved; driven, yet seemingly with lots of time. As months passed our friendship became stronger, and we joined them for dinner and coffee, even getting to invite them to church a number of times.
However, I think it was the informal interactions that made it so good to have them nearby. A random friendly hello in the stairs, a quick chat about work on the way to the train station, or a cheerful joke about the everyday life of suburban apartment living while out in the front yard.
Due to a work relocation, our Korean friends left the apartment block, almost suddenly, one Sunday. The week they left was a sad one. We could no longer hear the sounds of their kids playing outside our kitchen window, or greet them on a Saturday morning after their return from a trip to the markets. No more gifts of peaches and pears or the ability to pop down to their place when we ran out of milk.
It's hard to say goodbye, and I don't think my wife and I realized what good friends they were until they were gone. The fact that they lived 15 metres below us made it extra special.
So, what are some lessons I learned from our friendship?
1. Embrace the relationships you gain with your neighbours.
Such a strong relationship among neighbours, by our standards anyway, is rare in modern Australian life. Therefore, we need to take advantage of these unique friendships, work on them, and enjoy them.
People live busy lives, distracted by technology. Building relationships takes effort and means going outside your comfort zone. I recall Tim Keller speaking about how modern technology such as televisions and washing machines have resulted in us spending much more time inside our own residences than families historically have. As home is a place of comfort and security, we often limit our lives to within our home's four walls.
So in this world we need to take advantage of the relationships we build, and use them for good.
2. Christians have an incredible opportunity to share the gospel with those they live near.
As a Christian, I believe that it's part of your life's work to reach out to those around you. What better way to reach the unreached than those in your proximity? Timothy says to preach the word "in season and out of season" (2 Tim 4:2). The great Bible commentator Matthew Henry describes this verse as meaning we should not "shift off the duty" of sharing Christ with those around us. That duty remains when we are at home.
3. Christians must fully realize the concept of 'passing-through' and not having a stable home.
I remember Sydney pastor Ian Powell saying you never own a home anyway—it's just yours for 40-50 years until you die and someone else gets it (sounds morbid, but it's true!).
The Old Testament story is focused on the Israelites, exiled pilgrims in foreign countries, awaiting their promised land. Like them, we also live as pilgrims in an earthly setting, awaiting God's kingdom; as Philippines 3 says, "our citizenship is in heaven". That means taking to heart that our time here is temporary, acting on the need to take advantage of all opportunities, and knowing God's kingdom as our true home.
It's now Sunday afternoon, and the joyous cries of our friend's kids playing out front are absent. Discarded toys around the apartment complex are a sad reminder of years gone by. An old wooden door with "No. 2" remains, but it no longer contains the friendly faces that brightened the hallways of our abode.
I miss our neighbours, but most of all, I miss our friends.
I am a pilgrim and a stranger
Traveling through this wearisome land
But I've got a home in that yonder city, good Lord
And it's not made by hand —'I am a Pilgrim', Merle Travis
An earlier version of this blog post first appeared on Medium, and has been edited with the permission of the author.