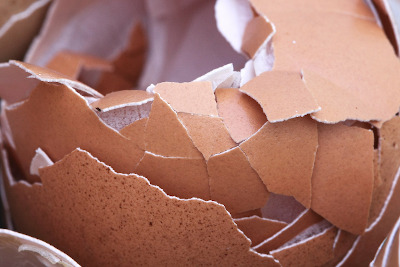 When Humpty Dumpty had a great fall, no-one was able to put Humpty back together. Do you feel that way sometimes?
This odd story of a poorly balanced egg is a good illustration of humanity's inability to repair itself after the tragic day of the fall began our downward spiral of brokenness and separation from our Creator.
As Christians we are taught that, in Christ, God puts us together again. Each time we fall he fills and heals the cracks of our brokenness with his divine nature.
But let's not be under any illusions: Humpty did break, his life was fractured, his frailty evident—and, like him, all of us will continue to experience this pain on earth. We are incapable of maintaining our footing. It is impossible for a human to achieve perfection in this life, to hold ourselves together and live totally devoid of sin. We remain tainted, not only by our own sinful nature but also by our subjection to the fallen world around us. Everything we do is infected by our self-serving nature; even what we call good, even what appears to be done in love—all remains broken.
The Apostle Paul knew this internal struggle well:
For I do not understand my own actions. For I do not do what I want, but I do the very thing I hate. (Romans 7:15)

For the desires of the flesh are against the Spirit, and the desires of the Spirit are against the flesh, for these are opposed to each other, to keep you from doing the things you want to do. (Galatians 5:17)
Why then, knowing full well of our inability to live perfect lives, does Jesus say things like, "From now on sin no more" (John 8:11)? Why do some tell us that we can be free of sin right now, promoting a doctrine of perfectionism? For a start, without God's call to sin no more—to love him with all of our heart, body, mind and soul—we would never fully comprehend the depth of our own brokenness and our complete dependence on him. We would never come to appreciate the desperate necessity of the transforming, heart-changing power of his amazing grace.
But when anything is exposed by the light, it becomes visible, for anything that becomes visible is light. Therefore it says,
"Awake, O sleeper,
and arise from the dead,
and Christ will shine on you." (Ephesians 5:13-14)
Perhaps one of the most well-known verses used to support the doctrine of perfectionism is Matthew 5:48: "You therefore must be perfect, as your heavenly Father is perfect". But passages of Scripture are not meant for interpreting in isolation.
If we read this verse in its context of the Sermon on the Mount, we find Jesus instructing on the way we relate to others and the motives that lie behind our actions. In fact, the word translated as 'perfect' here is translated as 'merciful' in Luke 6:36, which makes sense as mercy is the prime ingredient of Jesus' teaching in Matthew 5. Interestingly, the Amplified Bible suggests that perfection in this context relates to growth in maturity of godliness and character. It's also a clear link to Leviticus 19:2: "You shall be holy, for I the Lord your God am holy".
So we have been called by God to strive for perfection, to live holy lives as justified followers of Christ on the road to glorification. But the same God who calls us to this life of righteousness also recognizes our ongoing failure to do so. The tension continues. Paul's words consistently paint for us the inner struggles faced by all who long to please God:
So I find it to be a law that when I want to do right, evil lies close at hand. For I delight in the law of God, in my inner being, but I see in my members another law waging war against the law of my mind and making me captive to the law of sin that dwells in my members. Wretched man that I am! Who will deliver me from this body of death? Thanks be to God through Jesus Christ our Lord! (Romans 7:21-25)
Martin Luther understood this at a deep level, reflected in the way he describes the ongoing inner tension for the Christian: simultaneously saint and sinner. Christians are saints because they have been accepted by God through what has been achieved by Christ; sinners because they constantly fail in their struggle against their selfish nature. He suggests:
Original sin, after regeneration, is like a wound that begins to heal; though it be a wound, yet it is in course of healing, though it still runs and is sore. So original sin remains in Christians until they die, yet itself is mortified and continually dying. Its head is crushed into pieces, so that it cannot condemn us.1
To claim to possess a sinless nature in this life is to give a dishonest assessment of the person in the mirror. While it's true that the nature of Christ is perfect and that for Christians his perfect nature dwells within them, the wrestle between our sinful nature and Christ's perfection will not conclude until the hour of glorification.
These are important truths to come to grips with as we live the Christian life. While we fall, we never fall from God's grace. While our human nature remains weak and broken, the Father sees only the Son, and his perfection makes us right before him. Individually, our sanctification—being made perfect in God's sight—began the moment he regenerated our hearts to incline towards his. But this is a gradual process of often baby steps. Therefore, as theologian RC Sproul warns us, we should run for our lives from the false teaching of the doctrine of perfectionism, of instant sanctification.2 The Bible is clear: while we have been made right with God, our being made perfect is an ongoing process.
Perfectionism tries to convince us that it is attainable now, but it places a heavy burden on our more-honest conscience. Belief in obtainable human perfection can't last long because the sin in our nature causes us to stumble. Instead, Christianity calls us to live in reality. Christ's nature is perfect; ours fails miserably. God remains God; we remain human. But thanks be to God, because freedom is found in God's grace through his Son. While he calls us to walk as Jesus walked, he lovingly and mercifully lifts the burden of our failures from our shoulders, placing them on the only one capable of carrying them.
And we all, with unveiled face, beholding the glory of the Lord, are being transformed into the same image from one degree of glory to another. For this comes from the Lord who is the Spirit. (2 Corinthians 3:18)
1. Martin Luther, The Tabletalk of Martin Luther, Christian Heritage, 2003, p. 202. ↩
2. RC Sproul, Pleasing God, David C Cook, 2012, p. 19. ↩